Frequently Asked Questions

---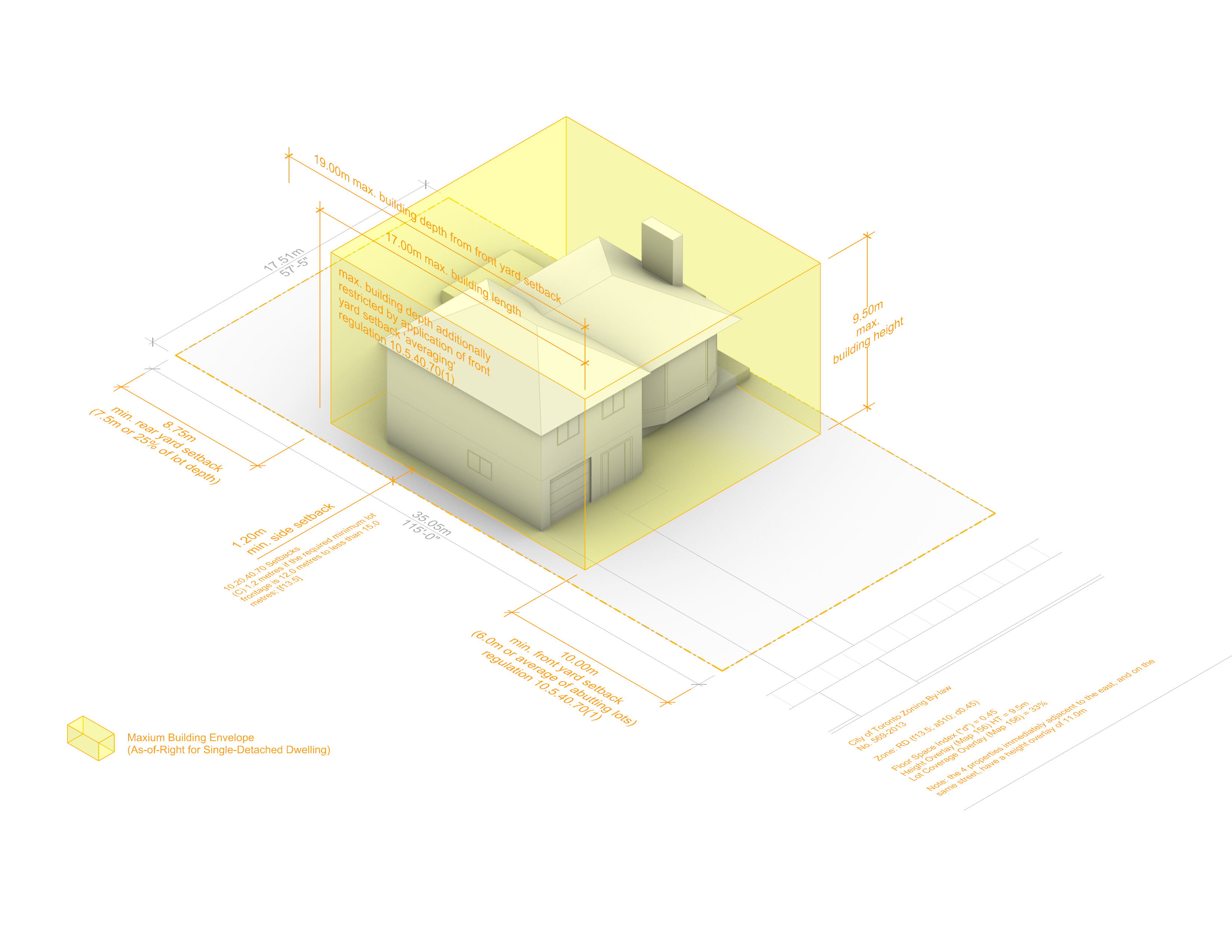 Zoning Overlay Diagrams (click to zoom)
Since multiplexes are not currently permitted in most of Toronto's residential neighbourhoods, how do these designs address Toronto's zoning regulations?

The housing options were designed with the principle that the permitted building size for a multiplex should be the same, or less restrictive, than for a single-detached house. The zoning overlay diagrams show the allowable "as-of-right" building size for a house, and were used to establish the maximum building size for the multiplex designs.
---
Do the Garden Suite designs follow Toronto's zoning regulations?

Where a Garden Suite (or a Laneway House) is proposed, the designs follow the respective zoning by-law. The maximum footprint and lot coverage, maximum floor area, maximum height and separation distances, side yard setbacks, rear yard setbacks, angular planes and rear yard landscaping requirements are included.
See
City of Toronto Summary of Rules and Regulations for Garden Suites
as of February 2022.
---
What other constraints were incorporated?

All of the designs fall within Part 9 of the Ontario Building Code, and therefore do not exceed a building area (footprint) of 600m
2
[6458 sq. ft.] and a maximum building height of three storeys. Buildings exceeding this size are regulated by Part 3 of the Ontario Building Code, and entail significantly higher construction costs, additional engineering and more stringent fire/life safety measures.
---
What is "EHON" and how does it relate to this research?

In May 2022, the City of Toronto's
Expanding Housing Options in Neighbourhoods
(EHON) Multiplex Study released a
Draft Official Plan Amendment for Multiplexes
. The draft policy includes the following language to allow for multiplexes across residential neighbourhoods:
a) For the purposes of this Site and Area Specific Policy, a "multiplex" refers to a duplex, triplex, or fourplex, as defined by zoning by-law 569-2013.
b) Development of multiplexes:
i. will respect and reinforce the existing and planned physical character of each geographic neighbourhood, including in particular:
a) patterns of streets, blocks and lanes, parks and public building sites;
b) prevailing size and configuration of lots;
c) prevailing setbacks of buildings from the street or streets;
d) prevailing patterns of rear and side yard setbacks and landscaped open space;
e) continuation of special landscape or built-form features that contribute to the unique physical character of the geographic neighbourhood; and
f) conservation of heritage buildings, structures and landscapes.
ii. is encouraged to include large units, and should include at least one unit that contains multiple bedrooms;
iii. is encouraged to provide universal physical access for units on the ground floor;
iv. must provide entrances that are safely accessible from the street, which may be located at the front, side or rear of the building;

v. will maximize contiguous soft landscaping within front and rear yard setbacks that is supportive of expanding the urban tree canopy through tree planting;
vi. should not result in the injury or removal of a healthy tree protected under Municipal Code Chapters 608, 658, and 813 on the subject property and adjacent properties;
vii. is encouraged to include sustainable building practices such as green roof areas, solar panels, fossil fuel-free heating systems, and low carbon building materials;
viii. is encouraged to salvage and reuse existing building materials and/or foundations and minimize below-grade floor area in new construction to reduce material carbon emissions associated with new development.

ix. will limit privacy impacts between adjacent dwelling units;
c) Zoning by-laws may permit additional density for multiplexes which include more than two dwelling units.
This policy is proposed to provide an incentive for multiplexes to be created. It would allow for more building area where there will be additional units within the permitted zoning envelope, than what would be permitted for a single-unit house with secondary suite. This is meant to ensure that additional floor area is directed to the provision of more housing opportunities.
---
What is 'FSI' and why do the housing options ignore this constraint?

Floor Space Index (FSI) means the gross floor area of all buildings on a lot divided by the lot area, it is also commonly referred to as the maximum permitted density. For more details visit the
City of Toronto Zoning By-law Details page
under the tab 'The Basics Illustrated'.
The housing options were developed using the form-based principles of standardizing building depth, setbacks and height based on the Draft Official Plan Amendment for Multiplexes released in 2022. We have recorded gross floor area calculations in the drawings, however many of the designs do not comply with the maximum permitted FSI. The plans are intended to demonstrate what could be possible within this zoning envelope irrespective of the FSI requirement, and are not intended for use in approvals or construction.
The zoning by-law exempts Laneway and Garden Suites from gross floor area calculations because their maximum building size is already sufficiently constrained using form-based requirements. Basement floor areas are also exempt from this calculation.
---
Why are there two options for the Postwar Bungalow NEW scenario?

The two designs compare the building code requirement for two means of egress in Part 9 buildings. A three-storey stacked townhouse is exempt requiring a second exit stair because the stair is internalized within the dwelling unit, whereas a three-storey triplex requires two exit stairs. It is therefore much less complicated and less expensive to build stacked townhouses than a triplex, although these are buildings of comparable size and unit count.