Feasibility Check
Vertical Split

These are units built by splitting your house like a semi-detached house to create a new unit. This split could be side to side or front to back. To register your unit legally, there are some specific requirements you will need to meet. The city refers residents to this Ontario website for a detailed guide for checking these requirements.

Click here to learn more.

Before you review the information provided by the Ontario website guide, check out our checklist below as a starting point to see if your home is a candidate for this kind of new suite. Remember to verify all code requirements with your local code, or hire a professional to do this for you!



---
Spatial Requirements
Ensure proper access
>>How would you split your home.?

A vertical split means placing a wall inside your home to separate it into two or more units. This split can be just on one floor, or itcan extend up two more more floors.

In terms of providing access, there are two scenarios to consider:

1. A front to back split
2. A side by side split
>>If you want to make afront to back split, you'll need to make sure there is access to the back of your home.

You need a minimum of 1m of clear passageway between your house and the edge of your lot for servicing and emergency access to a unit in a garage conversion that is loated in the back of your lot.

If your lot backs onto a laneway this can be used as an alternative to the 1m clear pathway from the front yard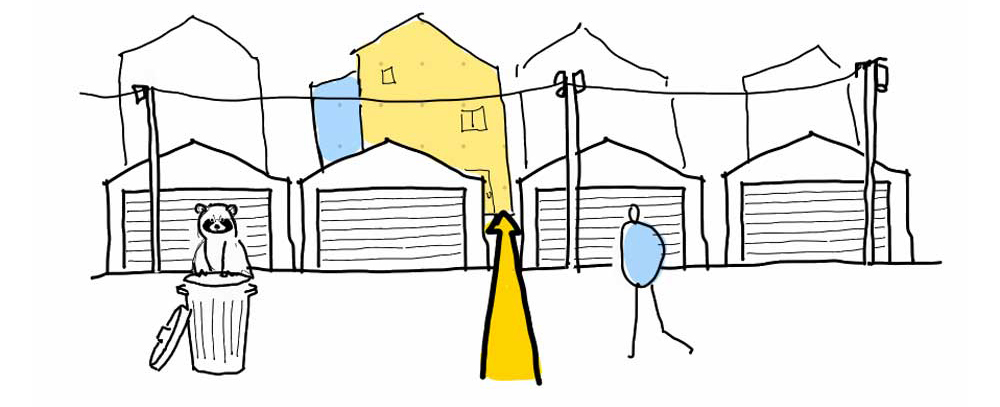 Measure the Ceiling

>>Your second unit must have a ceiling height of 2300mm over 75% of the floor area in a living room or space, dining room or space, or kitchen space with a minimum clear height of 2100mm

Measure your ceiling to see if it meets this minimum. If not, it will be expensive to make this change to register your unit as a legal basement suite.

Are there Windows?
>>Natural light is a necessity for housing units. If your space already has windows this is a plus!
The size of windows you will need for a unit depends on how big your unit is and what type of room you are in. Some windows may need to be used as an exit (more on this below!) The building code has minimum window sizes for different areas in your unit.
Living Room or Dining Room - 5% of floor area



Bedrooms - 2.5% of floor area

Laundry room, kitchen, bathroom - no windows required.

If your window is used for exiting you may need larger windows.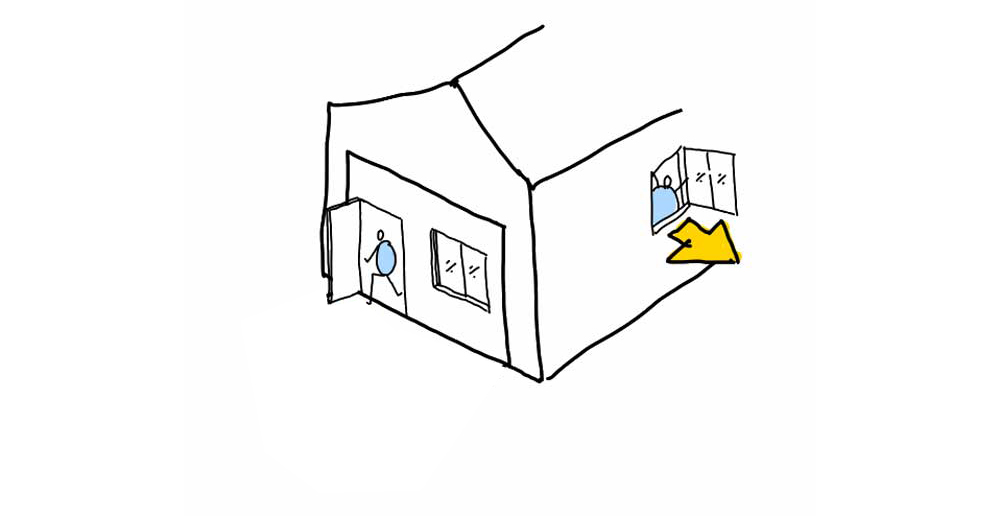 ---
Getting in and Out Safely
Access/Egress

>>There are two ways you can provide access to units within your house:

1) You can provide direct exterior access.

This means each unit has its own fire-separated exit path from the main space of the unit to the exterior. In this case, each unit will have its own exterior 'front door.'

2) You can provide access to the exterior through a shared entryway.

This means units will share a 'front door' and have a small section of communal space from which they access each of their units.

Most Garages can be retrofit to have a direct exterior access. You may also need to provide a second exit through a window in your unit that is large enough for a person to get through and easily open without any tools.


What Kind of Access do You Have?
>>Option 1 - Separate Second Entry
This is a good option because you will not have to do a lot of work to allow access to the unit. This is a door at the main level, often at the side of the house.


>>Option 2 - Share an entry
If you don't have a separate entry, you can create a shared entry way for both units. You will need to build a wall to separate the shared space from each of the units.

>>Option 3 - New Separate Entry
This option will require a bit of exterior work. You will need to create a new opening for a new exterior door in the outside of your house to accomodate a separate entry.

You may also need to provide a second exit through a window in your unit that is large enough for a person to get through and easily open without any tools.
---
Electric, Heating/Air, and Plumbing
Check Your Utilities

>>Check Your Electrical Service

1) Check your existing electrical service on your electrical panel

Find your circuit box. Find the main cut-off switch—this is typically the biggest switch in the box. The cut-off switch often has the number of amps written on it. You will likely need a minimum of 100 amps.

2) Use the chart below to calculate your existing electrical capacity (Coming Soon!)

3) Check how many units you can add based on your existing electrical capacity. (Coming Soon!)

Verify the level of electrical service you will need with a licenced electrical engineer or electrician.


---
Cost Considerations
Whenever you are deciding what type of unit to add, it is important to understand what are the major cost considerations. For a vertical split rennovation these include:
- unit access
- unit egress
- fire and sounds separation
- new bathroom(s)
- new kitchens(s)
Case Study
This vertical split case study involves creating distinct living units by subdividing the existing structure of the house in the vertical axis, meaning multiple units share a floor plate. Interior walls are added to create the necessary rooms within each unit and demising walls are added between units to create necessary fire separations. The project introduces new kitchens and bathrooms for each unit. Major considerations include plumbing, fire separation, and unit access.
Existing Floor Plans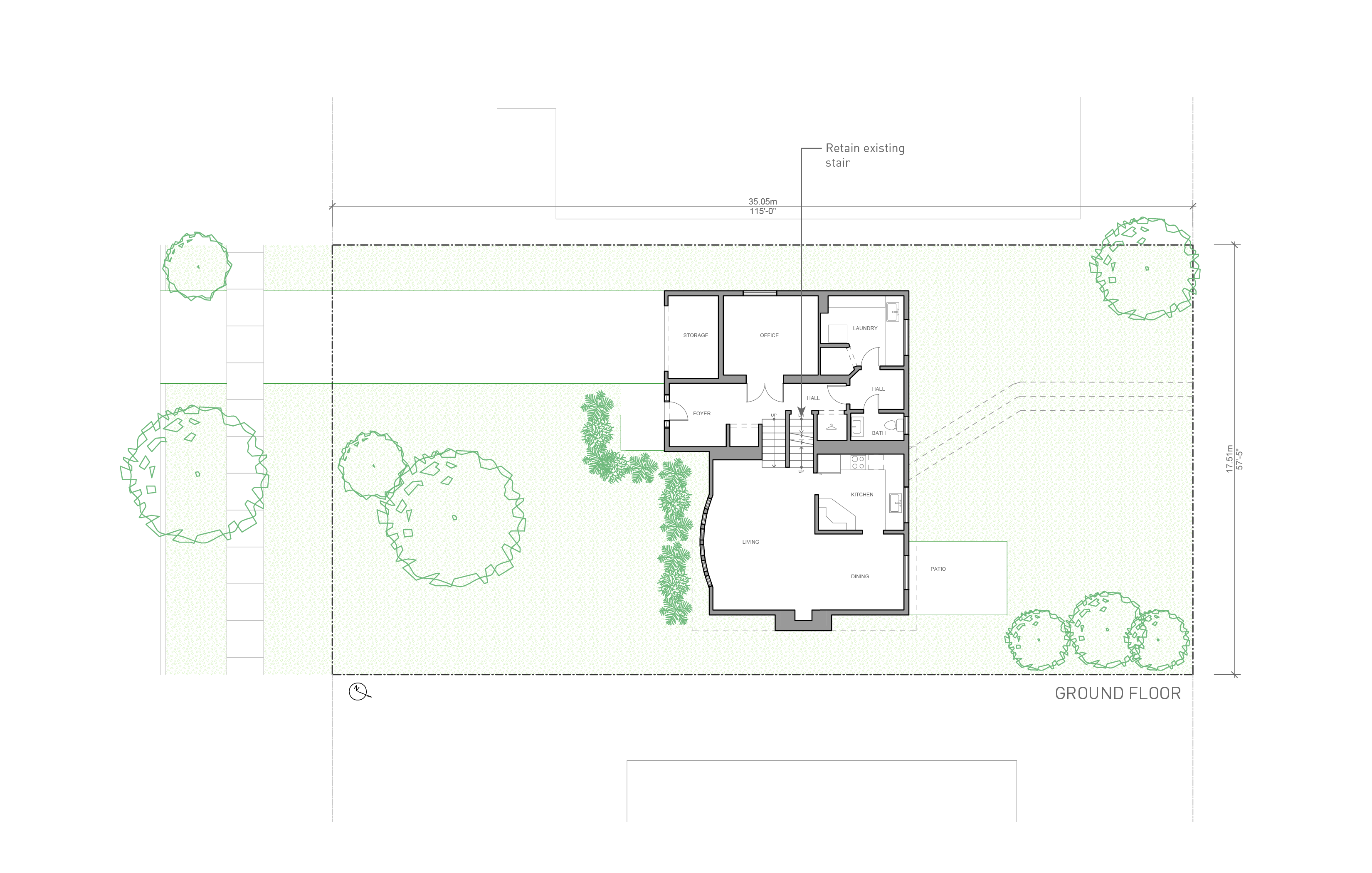 Case Study Floor Plans